Reflections from Rev'd Warner Wilder
Honesty
He was born February 12 1809 in a Kentucky log cabin. His parents were poor, honest and devoutly religious. They lived enduring ideals of truth and honesty, and taught them to their son.
As a young man, he worked as a clerk in a general store near Salem, Illinois. One day, he inadvertently overcharged a woman six cents. After closing for the day, this conscientious clerk took the lady her change, a round trip of several miles on foot.
On another occasion, when there were more customers in the store than usual, the young man gave short weight to a customer. Upon discovering the error, at first opportunity he tied up the four ounces of tea due to the shopper and walked a great distance to deliver it.
The man, of course, was Abraham Lincoln, and he carried this same honesty into his law practice, politics, and ultimately the presidency of the United States. His character was so impeccable that he truly earned the nickname, 'Honest Abe.'
'Blessed are the pure in heart for they shall see God.' Matthew 5:8
Honesty earns respect from others and cultivates a close relationship with God. And a final word from another US president, Thomas Jefferson. 'Honesty is the first chapter in the first book of wisdom.'
Sins of Omission
A traveling salesman was working in a rural area. One day he came upon a farmer sitting in a rocking chair on the porch of his rather rundown house. After introducing himself, he launched into his pitch, saying. 'Sir, I have a book that's worth its weight in gold. It describes how to farm your land ten times better than you're doing now.'
The farmer continued to rock. Then, after a long pause, he said, 'Young fella, I already know how to farm my land ten times better than I'm doing now. My problem isn't knowing what to do. It's doing it.'
Sins of omission (not doing what we ought) are as censurable as sins of commission (doing what we ought not to do).
'Every wrong is sin….' 1 John 5:17
---
Sacrifice
Many of you will be reasonably familiar with the painting, 'The Praying Hands,' by Albrecht Durer as pictured below. Legend has it that Hans and Albrecht Durer, two French brothers from a large family whose father worked as a goldsmith, wanted to study painting. The only way they could afford to do so was for one of them to work in the mines while the other completed his studies. They then would change places.
So for four years, Albrecht went to Venice to study while his brother sent him the money he earned in the mines. At last, Albrecht returned, now a renowned artist. It was his turn to help his brother Hans. However, when the two brothers met, Albrecht discovered the full extent of the sacrifice Hans had made. His hands were calloused and bruised from four years of hard labour. His fingers would never be able to handle a painter's brush.
In gratitude for the sacrifice his brother had made, Albrecht used the work-ridden hands of his brother as models for what became his renowned painting.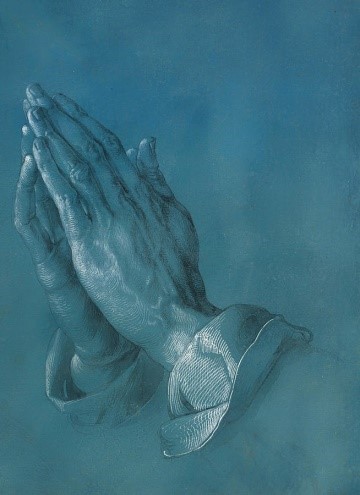 Sacrifice lies at the heart of the Easter message – surely self-explanatory. Sacrifice lies at the heart of giving. If there is no sacrifice involved, can we really call it giving? Giving lies at the heart of being a good person and also a long way to being a good Christian, along with faith, of course. Give, give, give, whether it be time, goods, money, a caring gesture, word or ear. It all amounts to love and compassion, and the world needs this in spades right now.
'But if anyone has enough money to live well and sees a brother or sister in need and refuses to help, how can God's love be in that person?' 1 John 3:17