Reflections from Rev'd Warner Wilder
Sacrifice
Many of you will be reasonably familiar with the painting, 'The Praying Hands,' by Albrecht Durer as pictured below. Legend has it that Hans and Albrecht Durer, two French brothers from a large family whose father worked as a goldsmith, wanted to study painting. The only way they could afford to do so was for one of them to work in the mines while the other completed his studies. They then would change places.
So for four years, Albrecht went to Venice to study while his brother sent him the money he earned in the mines. At last, Albrecht returned, now a renowned artist. It was his turn to help his brother Hans. However, when the two brothers met, Albrecht discovered the full extent of the sacrifice Hans had made. His hands were calloused and bruised from four years of hard labour. His fingers would never be able to handle a painter's brush.
In gratitude for the sacrifice his brother had made, Albrecht used the work-ridden hands of his brother as models for what became his renowned painting.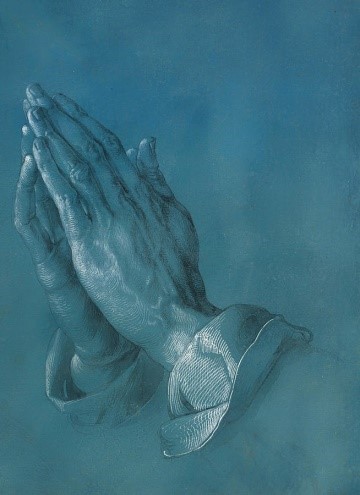 Sacrifice lies at the heart of the Easter message – surely self-explanatory. Sacrifice lies at the heart of giving. If there is no sacrifice involved, can we really call it giving? Giving lies at the heart of being a good person and also a long way to being a good Christian, along with faith, of course. Give, give, give, whether it be time, goods, money, a caring gesture, word or ear. It all amounts to love and compassion, and the world needs this in spades right now.
'But if anyone has enough money to live well and sees a brother or sister in need and refuses to help, how can God's love be in that person?' 1 John 3:17
---
Unselfish Giving
The miracle on the River Kwai is one of the most remarkable stories of the Second World War. The conditions for Allied prisoners in the Japanese prisoner-of-war camp on the River Kwai were so abysmal, and the mortality so high, that the men became almost bestial in their selfishness. They did not shrink from stealing food from their dying mates in a desperate attempt to stay alive.
Ernest Gordon, who wrote the book, was himself given up as incurable by the MO but was nursed back to life by the devoted self-sacrifice of a man in his Company, Dusty Miller. But the miracle was the transformation of attitudes in that camp as people began to understand and respond to the love of Christ. How did that begin to get through to men in such desperate conditions?
It all started with a Scotsman, Angus McGilvray, who literally gave his life for his friend. The friend was very ill and about to die. Someone had stolen his blanket. Angus gave him his own. Someone had stolen his food. Angus gave him his own. The result? Angus's friend got better, but Angus collapsed one day from starvation and exhaustion. He pitched on his face and died.
His totally unselfish giving was such an inspiration to the rest of the camp that they completely changed their attitude toward one another. Rather than focusing on themselves, they focused on the welfare of their fellow prisoners. They, in effect, created a little corner of God's kingdom.
We live in challenging times. It is important to spread around as much love as we can. As Christians it is the least we can do; as people, it is the least we can do. That way we can create our corner of God's kingdom.
'Dear friends, let us stop just saying we love each other; let us really show it by our actions.' 1 John 3:18